Banners are one of the easiest ways to get a message across to a specific audience. So, what comes to mind when we think about it? Perhaps it's the message being delivered, or even better, the designs! Banner designs typically vary according to their specified purpose and one's preferences. But before we dive in deeper into the topic, let's find out what banners are.
By definition, a banner is known as "a long piece of cloth bearing a slogan or design, carried in a demonstration or procession or hung in a public place." Though this has always been an archaic way of putting out banners, this may not particularly apply with today's modern banner designs. In recent years, traditional banners are slowly being replaced with digitally designed banners. That being said, let's have a look at the different types of banner designs.
Elements of a Good Banner
There are no firm rules about what makes a banner ad effective, and there's no guarantee that your banner would generate the same amount of attention you expect it to. But like everything else in the world of advertising, there are various factors that contribute to the success of a banner.
Listed below are five major elements to consider when creating a banner ad campaign:
Logo: Remember to include your logo design to help build brand awareness and recognition. Developing consistency among every marketing medium produced is one way to create a sense of familiarity among viewers.
Value Proposition: This should be the most prominent element on the ad. Showcasing your products and/or services creates urgency and desire in order to keep prospects interested in what you have to offer.
Body Copy: One of the primary rules in advertising is to never give out too much information. Instead, focus on grabbing a visitor's attention and piquing their interest by keeping your text brief and to the point.
Image: Choose photos, motion graphics, and illustrations that are directly related to your product or service, and that will help enhance your message.
Call to Action (CTA): A good CTA should help boost your click rate and interactions. You could either use a simple text or a button to direct readers to your landing page. It should be encouraging enough for people to feel "invited" rather than "forced" to act accordingly.
10 Banner Templates
Beauty Saloon Roll-Up Banner Example
Hair Salon Roll-Up Banner Design
Product Roll-Up Banner Sample
Product Launch Roll-Up Banner Template
Mobile App Promotion Roll-Up Banner Example
Fitness Roll Up Banner Design
Gym Roll-Up Banner Template Sample
Design Agency Roll-Up Banner Template
Travel Agency Roll-Up Banner Template
School Promotion Roll-Up Banner Example
Simple Banner Design
Sample Banner Design
Printable Banner Template
Thank You Banner Example
Gym BillBoard Banner Design
Real Estate Roll Up Banner
Spa Ad Banner Template
Baby Shower Banner Template
Graduation Web Banner
Sample Welcome Banner
10 Famous Brands Banner Examples
Adobe Banner Ad
eBay Promo Ad Banner
Facebook Ad Banner
Amazon Web Ad Banner
Pepsi Banner Ad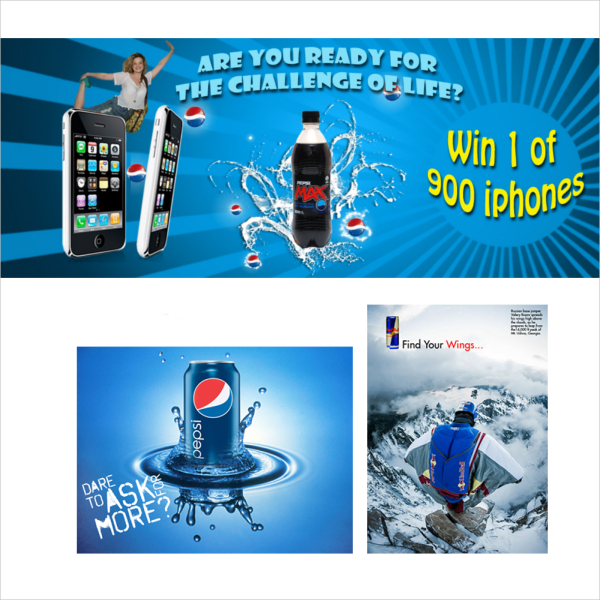 Dropbox Banner Ad
Shopify Banner Ad Example
Microsoft Web Banner
PayPal Web Ad
Netflix Web Banner Ad
What Are Banner Designs?
By looking at the printable banner examples pinned above, you might have noticed how banners vary greatly in design. Banners are mostly used for advertising purposes. The key messages that an advertiser wants to convey are given utmost importance, which is why they are often highlighted using various design elements like flashy and colorful message to capture our attentions.
For example, some advertisers like to promote their products by indicating a series of freebies and discounts in their advertisement banner to attract more customers and increase sales. They can use many designs starting from simple to flashy, and subtle to sophisticated ones, depending on one's preferences.
The idea is to get a message across more efficiently and effectively through the banner ad's text and design content. Whether it's a simple thanksgiving banner or an important business event, we all need banner designs to get people's attention. This allows us to carry our message across more effectively for our audience to grasp. You can also read wedding banner designs.
What Makes a Good Banner Design?
A banner design can only be measured by its effectiveness. A good banner should be designed according to one's needs and preferences. In order to attain an impressive banner ad, one should keep the following points in mind. You can also like vertical banner designs.
The purpose of the banner: The first and foremost thing to keep in mind when designing a banner is its purpose. Without knowing its purpose, it would be impossible for the advertiser to send the right message to viewers. So, before designing a banner, take the time to focus on the message you want to convey. You can also read roll-up banner examples.
The choice of design: Banners can have different designs. Everything from the color scheme to the message, the font style to the size of the banner, as well as the images you wish to incorporate in your ad may vary according to your needs. You can also like business banner designs.
The message you want to convey should be clear, precise, and direct. It should be enticing enough to capture the attention of readers. Most advertisers go for a more creative approach with the help of a catchphrase or slogan. One should always avoid any plain, boring text at any cost. You can also check out pop-up banner designs.
The items discussed above are some of the key points that designers needs to consider when crafting a banner.
How to Create a Banner Design?
How to Create a Banner in Word
Creating a banner design in applications like Adobe Illustrator is extremely easy. But if you're in a hurry and don't have any of these applications available at the moment, you could always use Microsoft Word as a substitute.
Open Word on your device.
If you're going to use a template, type the word Banner in the search box that reads, "Search for online templates." Click on the Search icon, and find the banner that you like.
Once you click Create, the software opens with the selected banner on display. You can choose to edit the banner or to print it as is.
Though the editing tools and design features in Word are fairly limited compared to those found in other design applications, it's still a good alternative to use when you're on the go.
Simple Tips for an Excellent Banner Layout
Under the hood of creativity lies a few principles that designers apply to their works to create the perfect banner ad. Here are just some of the things that every professional designer would suggest when crafting a banner ad:
1. Prioritize and structure elements accordingly.
As previously mentioned, there are a couple of elements that make up a banner ad. To get the best out of them, following a proper design structure and prioritizing these elements in a logical order will help you obtain a layout that's not only good to look at but relevant to its purpose as well. You may also see printable banner examples.
2. Choose images wisely.
Images have the ability to capture one's attention so easily. But when creating a banner ad, you need to make sure to choose the right images to fill your layout. Avoid using photos you don't need, and consider applying filters and graphic skills to photos for a more eye-catching visual.
3. Use the right color combinations.
Color selection plays a key role in a banner design. This would depend on the emotion you want to evoke, your brand image, target audience, and advertisement type.
4. Create a sense of movement.
While you always have the option to experiment with motion design for your banner, you could also choose to create a subtle sense of movement to a static image with the help of a few design techniques.
5. Explore with metaphoric or surreal visuals.
This is a marketing strategy that many advertisers have tried doing, and succeeded. But you have to be careful with this trick, as it's easy for a message to get lost in translation, especially when they are done too figuratively for viewers to comprehend.
Types/Formats of Banner
A banner can come in several different forms. They are usually divided into two general categories: print banners and digital banners.
Print banners are the type of banners that are printed on huge tarps and are hung in public locations. Unlike its digital counterpart, the content of a print banner is permanent and cannot be changed once produced. A series of vector designs and static images cover the content of the banner for a more visually pleasing outcome.
Digital banners, on the other hand, come in three different classifications: flash banners, animated GIF banners, and static banners. They are extremely common in big screens (think: New York Times Square), websites, and other public venues. What makes a flash banner different from an animated GIF is its complexity. It could be a short movie or a 15-second clip, where designers either use sound or interactivity to keep viewers engaged. As for a static banner, the ad's content is typically enclosed in still, single frames. It might have a small yet noticeable component of animation, such as a bit of blinking or color-changing text, but overall, the frame does not change.
Banner Sizes
A clean website will always attract more visitors more than a messy one. That being said, one way to make a website look sleek, clear, and legitimate is through the use of banner ads. In order to keep online advertising tools uniform, the sizes of these banners have been standardized by the Interactive Advertising Bureau (IAB). Here are some of the most commonly used banner ads and their respective sizes:
Medium Rectangle – 300 x 250
Square – 250 x 250
Leaderboard – 728 x 90
Skyscraper – 120 x 600
Main Banner – 468 x 60
While most banners have standard sizes, social media sites, on the other hand, have their own specifications for them. Listed below are a couple of social media platforms and their banner size requirements:
Facebook App Cover – 820×312
Facebook Profile – 200×200
Facebook Cover – 851×315
Facebook Post – 800×800
Facebook Ad – 600×315
Twitter Profile Photo – 400×400
Twitter Header Cover – 1500×500
Pinterest Profile Photo – 600×600
Pinterest Board Cover – 600×600
Pinterest Pin – 735×1140
LinkedIn Profile Pic – 400×400
LinkedIn Blog Post – 1200×627
LinkedIn Company Cover – 1400 x 425
Youtube Cover Photo – 2560×1440
Youtube Profile Photo – 800×800
Youtube Video Thumbnail – 1280×720
Instagram Profile Photo – 110×110
Instagram Post – 1080×1080
Google Plus Profile – 250×250
Google Plus Cover – 1080 x 608
WhatsApp – 1080×1920
SnapChat – 1080×1920
It is crucial that you use your banners effectively in order for your website to look accessible and feel intuitive. The better your website looks, the better the chances for its success.
Banner FAQs
Here are some of the frequently asked questions surrounding banner ads:
How do I make a Banner for my Website?
Creating a banner for your website is really simple. It's best to coordinate with the site's development team to assess the size, format, and type of banner that would best suit its specifications. Keep in mind that animated banners may slow down a website's response time, making it difficult for visitors to navigate around the site freely.
It's a good idea to use a vector graphics editor like Adobe Illustrator to create your static banner. Although websites are designed to automatically adjust a banner based on the site's interface, you still need to make sure that the design is of top quality. Take note of these measurements, and consider using the same template for future advertising proposal.
What is the Purpose of Banner?
Banners can be used for several reasons. In most cases, these banners are made to advertise a particular product or service to a targeted audience. This can help boost brand exposure for the company to expand its market, whether they are situated in a public area or up online. You may also see Vertical Billboard Designs.
What is a Social Media Banner?
Social media banners are most common in Facebook, Twitter, Pinterest and Instagram marketing. These are the images that you can commonly find at the top of your social pages, which are often used for promotional purposes by the advertisers. Social media banners are essential for driving sales and increasing brand awareness as well.
A banner design can range from simple and sophisticated to colorful and flashy designs based on your needs and preferences. They are easy-to-use and fully customizable to suit your requirements with less effort required. So if you ever find yourself in need of an advertising banner, make sure to use these guidelines and examples for a quick and easy design experience!
To learn more about banner advertisements, you can check out some of the most amazing banner designs, examples, and templates over on Template.net.