We all have been there. The opportunity to travel all over the world every single year. If the current pandemic never existed, a lot of us would have already taken the trip to the best places in the world. Of course when it comes to taking trips every year, we all know that there are some expenses that we need to take into consideration. One of which would be the hotels or the hostels we should be staying while we travel, the foods, the clothes and for some even the souvenirs that they need to have as a reminder of the trip. But how do we do this if we have no budget for any of these things? Should we just cancel our annual travels because of this?
We don't have to cancel everything, at least not necessarily cancel it. If you plan on something, you would know by now that budget is a part of it. The best thing to do right now is to start with your budget, and by doing so, you would find that it would be easier to get a good budget plan for your annual travels than to simply go without any plan and spend too much money on something that may not be as exciting as you think. So come check these out. 4+ examples on a good annual travel budget. 
4+ Annual Travel Budget Examples
1. Annual Travel Budget Template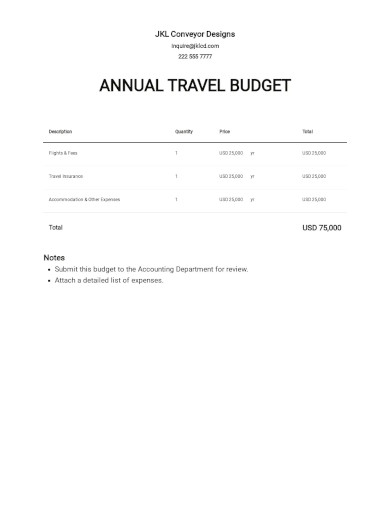 2. Annual Travel Proposed Budget
3. Annual Travel Budget in PDF
4. Annual Travel Budget Example
5. Annual Travel Requests Budget
What Is an Annual Travel Budget?
We know that a budget is needed for just about anything. This includes an annual travel. What we should also know is what it can be used for, apart from the most obvious of reasons of course. An annual travel budget is a kind of budget plan that you make in order to achieve the goal you have. That goal being to travel annually. For you to be able to do so, you must first write down your very own budget plan and with that, you simply start by adding the necessary expenses or the possible expenses you may need when traveling.
The importance of making your very own annual travel budget is for you to see the full amount of the things you plan on spending for your annual trips. These things can range from expenses of tickets, hotels, foods, clothes and even souvenirs. Regardless of how many things you may want to write in your travel budget plan, you must also expect or at least estimate the amount and sum it all together. That way, the total amount is what you are going to be saving on to reach that goal.
How to Write an Annual Travel Budget?
Where do we even begin when we think of writing a travel budget? Is it even possible to start writing one now? Yes, it is and we begin from the top just as anyone would be doing. So without any further issues, here are your tips for writing an annual travel budget.
1. Write a Title for Your Budget Plan
The best way to begin a plan or any kind of plan is always to make a title. Titles not only make your budget plan more personal, but it also gives you a thought that this budget plan is your goal. So just as any kind of goal, it must always have a title or a name. You can personalize the title of your budget plan or make it simple.
2. Make a List
Make a list. What list is this? List down the necessities and the wants that you would have in a travel budget. These needs should be in a separate table as well as their estimated prices. The same goes for the wants and your budget for them. The list helps to estimate everything in your budget plan and also helps when you are going to be adding all of them together in the end.
3. Start an Objective for Your Plan
As soon as you treat your budget plan like a goal, the best thing you can also do is to make an objective. Your objective or objectives should be doable and possible. Impossible objectives would only make it difficult for you and may make you lose interest in the goal.
4. Set Up Steps to Reach the Budget Goal
Just like any goal to make it, you need to make a list of steps that you can do once you have written all of the information on your budget plan. These steps can be as simple as saying you would put a dollar or two on your budget plan to the most complex one like putting half of your salary on your goal. Either way, it is how you are going to be doing it that matters.
5. Begin Your Budget Plan Immediately
Of course the last tip I can give to you is to begin your budget plan as soon as you can. Why wait for tomorrow or next week when you can do it now. As long as you have the resources and the materials to push your budget plan. Go ahead.
FAQs
What is an annual travel budget?
An annual travel budget plan is a kind of plan that caters to the travel goals you may have. This is done for as long as you are able to reach your goal.
How does an annual travel budget help?
The annual travel budget plan helps by giving you a view of the expenses that you are going to be making. We all know traveling is expensive, but it does not have to always be that way. A travel budget plan caters to finding that solution.
When is the best time to write a budget plan?
Anytime is the best time to begin. The only thing you can do is to motivate yourself into reaching that travel plan budget goal.
It goes without saying going on an annual trip is expensive. But it does not necessarily mean that you should just give up on that dream. The best solution to problems like these is making a budget plan to fit it. Making your own budget plan for an annual trip is really as easy as it looks. Since all you have to do is to write the wants and the needs in a table, the amount you may spend to buy them and to total everything. With that in mind, you can start immediately by saving up the money.