Information Technology became one of the world's leading industries in the current world. However, it is always necessary for one to be ready before venturing into this field. That's why you need excellent IT Business Proposal Samples to help you create the perfect plans and goals. Nonetheless, we're not only giving you this and making yourself deal with the problem of perfecting it. Nope. We also added a simple guide that you can use. Check them now!
15+ IT Business Proposal Examples
1. IT Business Proposal Template
2. IT Project Proposal Template
3. Software Project Proposal Template
4. Technology Proposal Template
5. Free Sample Software Proposal Template
6. Free Basic IT Proposal Template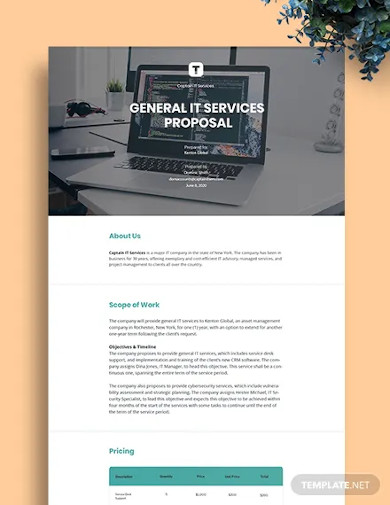 7. Free Simple IT Project Proposal Template
8. Free IT Business Proposal Letter Template
9. Information Technology Proposal Form
10. Information Technology Project Proposal
11. IT Services Proposal
12. IT Proposal Form Example
13. Information Technology Strategic Plan Proposal
14. Information Technology Support Services Proposal
15. Information Technology Package Proposal Form
16. Information Technology Support Proposal
What is an IT Business Proposal?
An IT Business proposal is a formal document that outlines the project, budget, and other particulars of a business venture. This document is important to ensure that everyone in the company or group understands the pros and cons of the initiative.
What are the three types of business proposals?
It is common knowledge that there are at least three types of business proposals in the market. Although the number may vary depending on the specifics, there are at least three major ones.
Formally Solicited
Formally Solicited business proposals are those proposals that are created with precision and properly. These proposals write up the specifics down to the smallest number. This is important for huge corporations and companies, as they need to be particular with their projects.
Informally Solicited
Informally Solicited proposals are those proposals that are created just to sate a certain person or group's curiosities. These proposals are usually used by startup companies, churches, and other settings where informal is the norm.
Unsolicited
Unsolicited proposals are those documents that are created by an individual not a part of the company or group. Business professionals usually create these to showcase their background and what they can add to the client or company.
How to Create an IT Business Proposal
Creating a business proposal is both easy and difficult, what matters is the type of business proposal you are going to make. If you are going to make an informal business proposal you can even use slides to make it. However, a formal business proposal needs to use Google Docs and other applications of the same type. So make sure that you determine it first before you begin. Listed below will be your steps after determining the type you need to create.
Step 1: Executive Summary
The first thing that you need to make when you are creating a business proposal is an executive summary. Although, this means that you're done creating an excellent title or cover page. Don't worry, you can make this into a draft first as you first need to create a proper plan before making an excellent executive summary because it is a summary after all.
Step 2: Profile
If you are planning to create a formal business proposal or an unsolicited one, you need to have a company profile or a roster of the team. This is to ensure that the people responsible for the project can be trusted. This will be one of your selling points if you are a vendor, as well.
Step 3: Business Plan
A business proposal is a harbinger of a business plan. It is the intro to the song. That's why, if possible, you should make sure that your business proposal has a business plan. In this way, people can see your vision and will get excited at the prospect of making your plans succeed.
Step 4: Financial Plan
Lastly, you need to take note that any project or business venture costs something. Although these can be considered as investments, they are still costs that a company or group needs to bear. That's why you should make a snippet of your financial plan in the proposal.
FAQs
What is the purpose of a proposal?
The main purpose of a proposal is to introduce a solution to a problem or persuade an individual or a group to follow a certain process for either benefits or answers. A proposal is extremely important to a company that holds everyone's opinions dear as it allows people to air out their views and potentially improve their work quality.
How do you write a proposal for a project?
Depending on the magnitude of a project you may need to do more than the things listed here. However, these are some of the steps you need to take if you want to create a proposal.
Step 1: Determine the Audience.
Step 2: Specify the Need or the Problem
Step 3: Create Proper Solutions
Step 4: Determine Effects
Step 5: Create a Schedule
Step 6: Count the Cost
What is the background in a project proposal?
The background in a project proposal may include things such as team profile or solution history. If you are planning to showcase a unique product you might opt to use these two sides. You can also use both for external teams and peculiar solutions.
Information Technology is an ever-expanding industry. It started as a huddle of the nerds to becoming an essential element to our civilization. Now people around the world use this for their emails, social media, and business. So if you are willing, venture out in this industry and see it for yourself. Create an excellent IT business proposal today and make your best dreams come true!