If you are looking for medical proposal templates, this article is for you. We've put together a list of 10 options that you'll find useful. Each template is available for free download. So, instead of creating yours from scratch, you can download any of these and it as a guide and inspiration to write a good medical proposal. Check them out below.
Best Medical Proposal Examples & Templates
1. Sample Medical Proposal Template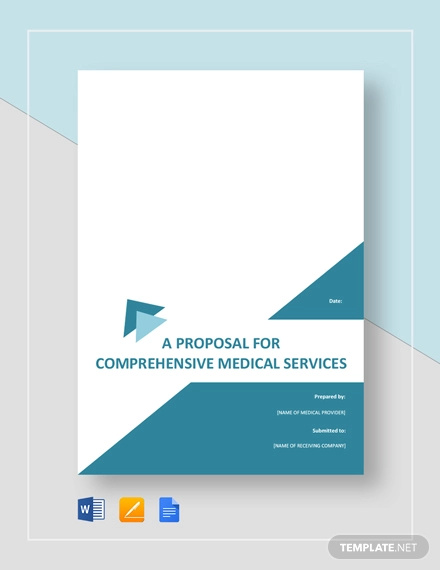 Your medical idea may be the next big thing. In fact, the idea may just be one of the best services you can offer your community. But, you need to remember that your ideas can't come to fruition unless you are sure it's something people would be willing to buy. This calls for a comprehensive proposal. If your medical service proposal clicks, you can be sure that different people will buy your idea and support you in whatever way you need. The best way to start writing a proposal fast is to use a custom medical proposal template. And here is a unique example that you'll definitely love.
2. Simple Medical Business Proposal Template
Why would anyone choose to work with your medical business and not your competitor? This is an important question. In essence, it helps you to determine if the medical business would be useful to the target audience. But how exactly do you write a proposal that will get the hook you need? You can do so by doing research. Then, you can use the data that you collected to justify the content of your document. Now that you have collected the data you need, it's time to put it into a professional format using a high-quality medical proposal template. Download this example.
3. Printable Medical Proposal Template
People write medical proposals for two reasons. First, they want to communicate and implement ideas they believe will help the community. Second, they need to secure support from different bodies to realize the goal of the medical project. However, many of these proposals fail because they don't address a problem in-depth. If you want your medical project proposal to gain the attention it deserves, you need to prove that it can solve a problem in the best way possible. The best way to go about this is to do your research and come up with concrete information. Check this sample for inspiration.
4. Medical Research Template Example
So you have a medical research topic that you would like to work on. And you are certain that the subject can help many people in the community. However, you don't have a reasonable budget plan to fund the project. What do you do? Well, the best thing would be to write a comprehensive medical proposal. Then, share it with entities you would like to help you. Remember, a good medical research proposal is the one that highlights the problem of concern as well as the objective of the research. Check out this sample template for more ideas. The file is free to download.
5. Business Proposal for Medical Coding Solutions
Medical coding is a business in demand. At least you have an opportunity to give it a shot because there is a thriving market out there. But first, you need to start with the basics. You need to do your research, understand your target, and then write them a proposal. The proposal here is more like your marketing pitch. So, you need to make sure the proposal is clear, comprehensive, and communicate the right message to the right audience. Here is a well-written example that you should have a look at. This template is free to download, just click the link above.
6. Printable Medical Billing Proposal Template
Did you know that there is a high demand for medical billing services today? So, if you are skilled and have experience in this area, there is a market out there waiting for you. Your success rate depends on how you market your services. You first need to have a unique proposal that your potential buyer won't help but look read. And if you can capture their attention with your proposal, you bet that's marketing half done. So, how do you write a good medical billing proposal? You can do that by getting ideas from this sample proposal template. You can download the template for free by clicking the download link above.
7. Simple Research Proposal Template
Writing a medical research proposal isn't difficult. But there are rules to follow. At the very least, you need to spend time brainstorming ideas. Remember, the goal of your proposal is to win your target over. And if you nail it in the brainstorming stage, you can attract attention to the actual proposal. A good proposal is clear and direct to the point. Grab the attention of your target with the title of the proposal. If you do, you have their attention. The document should also show a list of your aims (objectives). Download this sample template and check the format of the research proposal.
8. Medical Grant Proposal Checklist
Maybe you have never written a medical grant proposal and you are looking for a good example to use as a guide. Or, maybe it has been a while since you wrote one and you are just looking for some inspiration. Whatever the case, you will find this example template quite useful. Click the link above to download this document for free.
9. Mobile Medical Care Project Proposal
If you would like to pitch your mobile medical project ideas to a specific audience, you will need to write a mobile medical proposal. Check out this sample proposal template for some ideas. The template is available for free download.
10. Medical Service Proposal Template
Would you like to request for a proposal for a medical service fast? There is an easier way to do that. You only need a well-written template and you are good to get started. Here's a sample template that you can download and use.