Any business that belongs to the food and drink industry needs to have a well-formatted list of the dishes and drinks that they offer. Hence, it is essential for restaurants, cafes, bistros, hotel dining halls, etc. to have a comprehensive menu that their customers can skim through. The menu should not only list the name of the dish, but it should also list out some of its main ingredients, include a brief description, and the corresponding price. In this article, various food menu templates and examples are provided for you to download and take inspiration from.
Food Menu Templates and Examples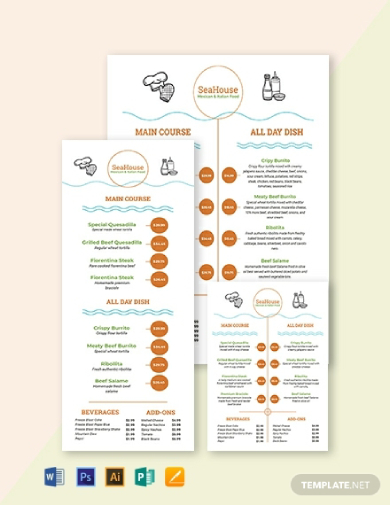 As a competing food and drink business, you need to give your customers a clear overview of everything that you offer. Hence, it is important that you have a food price menu that will give them a list of all the dishes that you offer along with the corresponding price. If you are looking for a well-formatted menu template, you can download this one and edit to suit your style or branding preferences.
The taste of meaty perfection with a hint of spicy and cheesy goodness in a taco and the juicy goodness of meat-filled wrap that is in a burrito is just simply to die for. Mexican food has become widely known loved, and if you have a Mexican restaurant, it is best to have your dishes clearly listed on a menu. This downloadable Mexican food menu template has a clear and flexible layout that you can easily edit.
The French cuisine is known for its intricate cooking traditions and practices, and it is known for dishes like foie gras, souffle, quiche, ratatouille, and so many others. Having a French restaurant means that you need to keep up with the high standards that have been set for a long time. Thus, it is only right for your menu to exude the same classy vibe of France, and you can easily achieve that with the help of this retro French food menu template.
Italian cuisine focuses on simple, whole, natural ingredients which makes it one of the healthiest meals in the world. When you say Italian, people will immediately think of pizza, pasta, risotto, prosciutto, gelato, and so much more. Having an Italian restaurant means that you only serve hearty meals that everyone will surely enjoy. But to let customers know of what scrumptious dishes you offer, you need to have an Italian food menu similar to this template.
5. Restaurant Food and Drinks Menu
Be a one-stop-diner by offering a wide range of food and drinks to your customers—from appetizers to side dishes, main course dish, desserts down to serving carbonated drinks or alcoholic beverages. But with that number of products available in your restaurant, you should find a way to list them out as clearly and as comprehensively as possible. To help you, you can download this food and drinks menu template and edit it accordingly.
Looking for an editable food menu template to use for your up and coming restaurant or cafe? Fret not, we have the perfect one for you. This food menu template features a simple layout that you can easily edit to suit your style and preferences. It has also original designs and artworks that you can make use of after downloading. This template is perfect if you want to achieve a simple and rustic vibe for your menu.
Children have quite a picky appetite; they only eat a few types of food. Thus, it is important for an academic institution to find ways to let them eat healthy but yummy food. Having a menu that the parents can look into to choose which the child will eat for snacks and lunch will help you avoid wasting barely eaten food. Should you need a template for this, you can download this preschool food menu template and easily edit to incorporate the details.
Asian cuisine doesn't only consist of Chinese and Japanese dishes; it is a well-rounded and diverse cuisine that features varying taste from each country in Asia. With that in mind, it is important to be inclusive with the dishes you serve in an Asian restaurant. Let your customers travel through Asia through the amazing food experience they get when they dine with you. Should you need a menu for this, you can download this Asian restaurant food menu template.
A Japanese bento box or home-packed meal usually contains rice or noodles; fish; or any meat dishes like karaage, katsu, etc.; pickled or precooked vegetables; tamagoyaki (a Japanese omelet); and sliced up fruits. Although traditionally the food inside a bento box is home-cooked, it has become a trend to use a bento box in Japanese restaurants. As you can see in this menu example, a wide range of possible contents of a bento box are provided so that customers can choose the bento they want to order.
Vietnamese cuisine uses rice, noodles, fresh vegetables and herbs as the main ingredients for various dishes. You may have tasted some famous Viet dishes such as spring rolls, pho, Bahn mi, etc.; these dishes have strong, flavorful meaty tastes that will surely satisfy hunger. In this Vietnamese food menu example, you can see how each dish has a translation and brief description to cater to non-Vietnamese–speaking people. You can do this too especially if your menu features local dishes.
Recently, people have been quite conscious of the food they consume, some even switched to vegetarian or vegan diets. That's why there is an abundance of vegan restaurants in the market today. Aside from independent vegan restos, other establishments have catered to vegan diets as well. You can see in this vegan food menu example how organized and transparent the menu is when it comes to listing ingredients so as not to offend and cause negative reactions from customers.