Any building related matter requires a lot of money to be spent. For the work to be carried out smoothly, it is best to clear all expense related matters with the Buyer and the Vendors. This will happen if procedure is duly followed and quotations are forwarded for all monetary transactions that will happen subsequently once the project starts. This ensures clarity regarding the amount involved and the scope of work to be done against such payments. This way a very good project gets implemented in time and people live peacefully in their homes and work in shops and offices.
Below we are providing 10+ Building Quotation Examples & Templates for your benefit in this regard that cover all different types of Building related matters.
1. Building Construction Quotation Template
The above sample is a generic quotation template for a construction company which they provide to their customers for due diligence. It has all generic information and can be edited to suit your company's need. It is downloadable in various formats and is printable as well. It will increase your chances of getting the contractfor making the requisite building.
2. Building Contractor Quotation Example
3. Building Work Quotation Template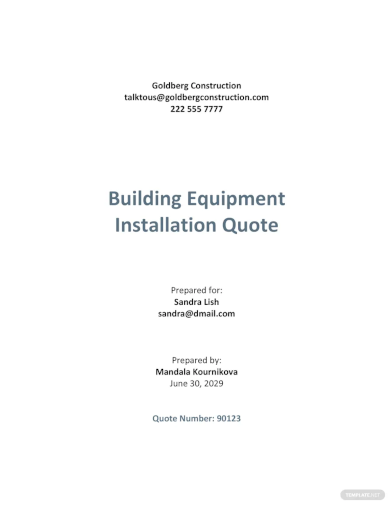 4. Building Extension Quotation Template
5. Building Repair Quotation Template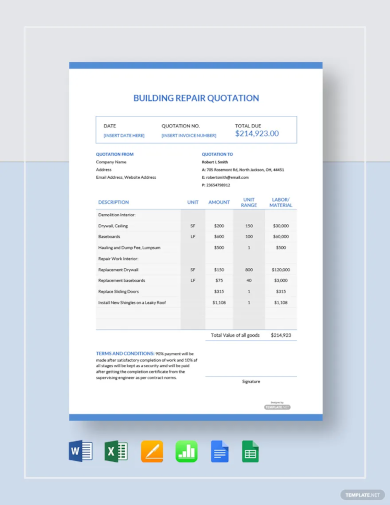 6. Labour Quotation for Building Construction Template
7. Building Quote Template
8. Exhibition Stand Building Quote Template
9. Building Insurance Quotation
The above sample template if required to filled by a Medical Facility to get the building insured. All relevant details are asked clearly and one to provide the said information in full. Information such as Heating System, Fire Protection and Exposure etc. are critical for any Insurance company to conduct due diligence so that the building can be insured against any mishap. This form is in a very simple format and is free to download and print.
10. Building Renovation Quote Form
The above form is required to be filled if a building is to be renovated and for that, the owner wants to carry out an Insurance Policy to cover losses, if any, during such renovation. The form will be forwarded by the Insurance Broker after collecting all information correctly. This form is often required by big buildings that are very costly to make and maintain. The form is in a very simple format is freely downloadable and printable as well.
11. RFQ for General Building Construction Services
The above sample template is a request for providing quotation for modernisation of a building complex. The various terms and conditions have been laid out clearly in the said form and is very beneficial for any construction company to get an idea about the various processes involved and documentation required to be submitted. It is free to download and print as well.
12. Tower Building Price Quote Form
Building Towers is also a very profitable business. For the customers of such companies, life becomes very easy if they get a quotation which is embedded with smart features. The above sample template is a great example of such a Quotation where the entire list of components and materials involved in building a tower are listed. The customer only needs to enter the quantity desired as per their requirement and the form will display the relevant cost that they the customer is required to pay. It is free to download and print as well.
13. Request Quote for a Steel Depot Metal Building
The above format is issued by the Steel Depot company which makes buildings out of steel. They are providing all relevant information to the customer so that the customer can fill out their own requirements and return the form to Steel Depot. It will enable the builder then, to provide a competitive rate for constructing the building. It is a very interesting concept of making a building out of steel. The form is free to download and print as well.
14. Vacant Building Quote Request Form
When a vacant building needs to be covered for Insurance then the Insurance Company asks for certain details which are unique to the situation. All that information is provided in the above sample template. Submitting this form to the Insurance Company will enable them to provide the correct price for the premium. It is free to download and is printable as well.
15. Request Quotation for Building Construction
The above sample template is issued by the Association of Blacksmiths to the Building Construction Companies inviting their quotations for making a building in their Society Complex. In this, all details and requirements have been clearly mentioned and it will make every builder's life very easy if they go through it to learn about the way things need to be done for such customers. The template is free to download and print as well.
16. Quotation for Building Maintenance Services
The above sample template is an open invitation to all companies for submitting Government Building maintenance services. It is a very prestigious work and hence anyone looking to engage in such contracts should have a look at it to better understand the formalities involved. The template is free to download and print.
17. Building Regulations Individual Fee Quote Request Form
The above template is a form provided by the Government Department entrusted with charging the appropriate government fees for applicants who wish to renovate their building. The said form is to be acquired by them and duly submitted so that the lowest fees can be quoted by the Government Department which will then be required by the building owner to be deposited for getting clearance for the renovation work. It is free to download and print as well.