It's impossible to run a business smoothly without proper financial management. Everything that a business does, every transaction, process, and exchange, involves money or affects money in some ways. Simply put, the business world is money-driven. Your business can't survive in the economy if you're careless with your financial assets. That's why you must prepare a business budget on a monthly or yearly basis. In this blog, we'll share with you our 15+ Business Budget Examples to get you started! Take a look at them below and click download!
15+ Business Budget Examples in Excel
1. Manufacturing Budget Template
2. Manufacturing Production Budget Template
3. Payroll Budget Template
4. Annual Payroll Budget Template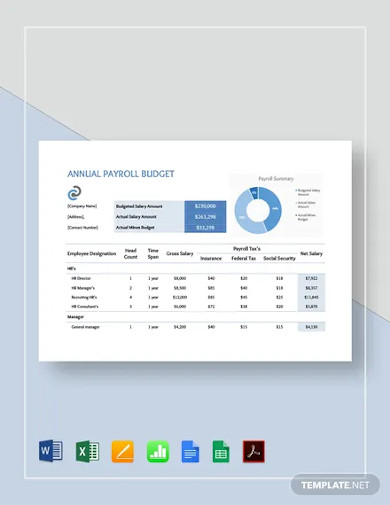 5. Capital Expenditure Budget Template
6. Project Budget Template
7. Non Profit Annual Budget Template
8. Yearly Budget Template
9. Simple Budget Template
10. Free Basic Project Budget Template
11. Free Market Budget Template
12. Free Secondary School Budget Template
13. Elementary School Budget
14. Holiday Budget Template
15. Monthly Budget Template
16. One Year Budget Template
What Is a Business Budget?
A sample business budget is a financial document that shows how much a business will and should be spending on its operational needs. It could either cover bi-weekly, monthly, or yearly expenses. A business budget helps a business owner or manager in managing finances. It enables them to see if the business is spending too much and how much revenue it'll earn within a period.
A business budget is among the documents you need to prepare in facilitating your business' finances. It has to be a part of your financial plan regularly. Without it, tracking your financial status will be more difficult as it already is. Other terms for a business budget are company budget example, operating budget example, or financial budget example.
What Should a Business Budget Include?
Your budget proposal sample for business must have all of its components intact. Otherwise, it wouldn't be effective in helping you manage your financial assets. So, here are the components that your business budget must include:
Fixed expenses
Variable expenses
One-off expenses
Revenue and profit estimate
Total of your weekly, monthly, or yearly expenses
How to Prepare a Business Budget
A report in Small Business Trends says that 61% of small businesses didn't prepare an official budget in 2018. Those businesses were risking themselves into possibly suffering a financial downfall. Of course, you don't want that sort of outcome to happen in your business. That said, make it a steady practice to prepare a business budget regularly. Follow these basic steps to get started.
Step 1: Identify Your Income Sources
The money you'll get for your budget comes from your income sources. So you have to identify them. Your income sources primarily include your current revenue. That's where you should take the majority of the money for the budget. Another income source could be your personal finances, some of which came from your business profit. However, it isn't advisable to mix up personal finances with business. They should be separate. So, focus more on taking from your current revenue.
Step 2: Identify All Your Business Expenses
All your business expenses are what the budget must mainly cover. So make sure to identify each and every one of them. These expenses are office supplies, marketing or advertising, rent, utilities, travel, supplies, equipment, repairs, maintenance, and many more. Don't leave any expenses behind.
After identifying your expenses, list them on your budget spreadsheet. Allocate enough money for each of them. And have a cost-effective mindset in budgeting your expenses.
Step 3: Allocate Budget for Whammies
Whammies are unexpected expenses. These expenses could catch your business off guard. Some of them are the result of accidents that occurred during operations. If your business is unprepared for them, they could affect its budget. So make sure to allocate a decent amount of money for possible whammies.
Step 4: Calculate the Expenses' Overall Total
Once you've formulated a breakdown of your budget's expenses, calculate their overall total. Add all of your expenses, both small and big. The sum will be the total cost that your business will be covering for a period.
FAQs
What are the two types of budgets?
The two general types of budgets are:
What is a startup budget?
A startup budget is the type of budget that covers the expenses to start a new business. They're an important section in startup business plans and proposals.
What are the types of expenses?
The three types of expenses are:
Fixed expenses
Variable expenses
Periodic expenses
One of the foundations that can keep your business standing is its budget plans. That's how important they are. Keeping a watchful eye on your financial assets is an entrepreneur's instinct that you must hone. The best way to execute that is by budgeting. So download our budget template and budget examples for business now!