A quote by J. Stanford goes like this "Health is a state of the body. Wellness is a state of being". How well are you right now? Have you thought about that before you answered yourself? We know that wellness can come in different forms. Physically, mentally and emotionally. In companies, businesses, and even medical offices, a lot of employees often suffer from poor wellness. As it should be addressed in the best way possible. The way to address that is by making a wellness action plan. With that, here are examples of a wellness action plan.
10+ Wellness Action Plan Examples
1. Wellness Action Plan Template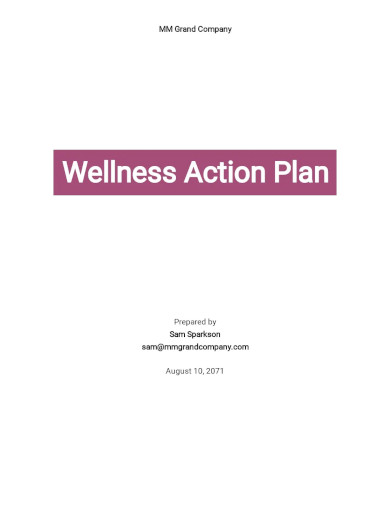 2. Wellness Recovery Action Plan Template
3. Basic Wellness Action Plan
4. Wellness Action Plan in PDF
5. Standard Wellness Action Plan
6. Wellness Action Plan Example
7. School Wellness Action Plan
8. Wellness Recovery Action Plan
9. Financial Wellness Action Plan
10. Developing Wellness Action Plan
11. Worksite Wellness Action Plan
What Is a Wellness Action Plan?
A wellness action plan is a strategic type of plan that focuses on the strategies that go well with seeking solutions for physical, mental, and emotional wellness. Since a person's wellness can affect overall performance, it is best to come prepared with an action plan that works with the issues. This action plan is made to address the cause of mental or physical issues which often are seen as problems that affect the employee and their work. The action plan can come in two different forms, documented reports within the action plan or an action plan template. For other examples of an action plan, you should check out the employee action plan.
How to Create an Effective Wellness Action Plan
To get a good idea of how to treat mental wellness or even physical wellness your employees may be showing, your action plan must also cater to such needs. Here are some steps to creating an effective wellness action plan.  Check out 
Step 1: Define Your Objectives for This Action Plan
Like any other action plan, a wellness action plan must also have a definite objective and goal. Action plans without goals or objectives are difficult to use as there is no clear purpose for them.
Step 2: Create Strategies for Each Wellness Plan
Think of strategies that are well-rounded and can be used for any kind of scenario. These strategies must also adhere to the health and safety of the people around you and to those whom the plan is for. In addition, you must also be prepared for emergencies that could happen. See the safety emergency action plan and emergency action plan for more ideas.
Step 3: Add in the Research You Made for Solutions
To make your wellness action plan more effective, do some research about physical and mental wellness solutions. Think about making a research action plan for this as well. It is in research that you can get more information that is key to your action plan. 
Step 4: Review Your Action Plan and Take Action
Once you have done all the necessary parts of the wellness action plan, make a review. Just in case you may have missed something, it is best to have to address it before taking action on what you wrote.
FAQs
What are other types of action plans?
There are a lot of kinds of examples of action plans. Each action plan has its purpose and use. The following types below are examples of action plans.
Wellness recovery action plan
Health and safety action plan
SMART action plan
Why is it important to have an emergency wellness action plan?
There is a reason for making an emergency or a backup wellness action plan. In case your strategies for your first action plan do not resolve the problems, at least you may have some other backup strategies or backup action plans to do it. It keeps everything moving forward.
What is a wellness action plan?
A wellness action plan is a document, a template, or a tool that is strategically made to hand in strategies to address the mental wellness of an employee.
How are you feeling? How is your mental state? A lot of people often do not get the initiative to express their mental state, nor are they able to get the right solution for it. Employers who notice a sudden change in their employees know that having a wellness check and a wellness action plan will help a lot. It may not look much, but it is surely a great deal of help.