Everyone should prepare and know what to do in case of an emergency. Evacuation means to move people from danger to safety. The goal is to be able to leave the premises quickly and safely in case of an emergency. So that everyone knows what to do during such a situation, having an evacuation plan prepared is an essential course of action.
6+ Evacuation Plan Examples
1. Emergency Evacuation Plan Template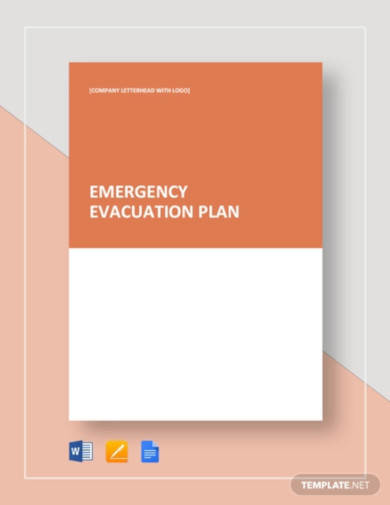 2. Fire Evacuation Plan Template
3. Home Evacuation Plan Template
4. Fire Evacuation Plan Template in PDF
5. Evacuation Plan in PDF
6. Fire Emergency and Evacuation Plan in PDF
7. Evacuation Planning Guide Example
What is an Evacuation Plan?
An evacuation plan is a written document detailing the procedure and action plan to exit an area of immediate danger during an emergency. Evacuation plans include instructions specific to the area, such as hotels, hospitals, factories, and schools. It is a general guide to help with people management, coordination, and aid decision-making during an emergency to help the maximum number of people.
How to Draft an Evacuation Plan
An evacuation plan is crucial because it allows everybody to prepare for any emergency and know where to go for safety. That, in turn, reduces the risk of injury or worse. If this is your first time planning around a crisis, continue reading this article for some helpful tips.
1. Plan With the Area in Mind
An evacuation plan is only as effective as the location it is applicable. When drafting your evacuation plan, take into account the layout of the site you are on. For example, if you are creating an evacuation plan for your office, identify the most effective route for your employees to exit the workplace and into a safe area.
2. Write Down Clear Instructions
When doing the write up for the procedure, keep it short and concise. Avoid using safety jargon and high vocabulary words as it could leave some of your readers confused. Explain in simple terms what must do during an evacuation drill so that everyone can understand. That way, everyone will know what to do precisely during an emergency.
3. Plan What To Grab
According to an article by Forbes, if you had the foresight to grab something, then the less you need to worry about it during an emergency. Knowing what to take ahead can help you be efficient with the time you have and focus on getting yourself and others to safety. You have all your essential documents in a digital file and have an emergency wallet prepared.
4. Specify According to Situations
Avoid creating a generalized procedure as there is no "one size fits all" type regarding an emergency. Try to come up with different plans for emergencies so that your readers will be able to adapt to them if they happen. For example, you can create an evacuation plan for emergencies like fire, earthquake, or flood with different routes and instructions to get to safety.
FAQ's
What are the advantages of having an evacuation plan?
It is essential to prepare for emergencies. Having an evacuation plan means you have a go-to procedure on how to exit a building during emergencies.
What are typical emergencies that require an evacuation plan?
Some natural situations that warrant an evacuation plan include flood, fire, and earthquakes.
What makes an evacuation plan different from an emergency plan?
An evacuation plan refers to procedures on how to leave a building during emergencies. An emergency plan refers to how one should respond during a situation where there is an immediate risk. The latter usually involved evacuation but not always.
Evacuation is a process required upon the occurrence of a disaster. It is essential for any organization that needs to educate its employees about safety measures, and instructions on how to handle a situation of crisis and aid in the evacuation process. With a well-made evacuation plan, you can take the necessary steps to ensure the safety of yourself and your associates/friends/family members.