Growing up in the digital world and depending on computers, smartphones, and e-mails; personal letter writing is not as practiced as these days. There are already messaging apps, video chats, and social media where you can talk to your friends and families as much as possible with little cost. However, writing letters is still deemed as sweet and personal to most people. Your sincerity to a person can be reflected in the letters you write. There is even some letter writing enthusiasts who still love to do snail mail even with the advanced technology around us. You may also see application letters.
Letter writing can be cool. Not only you could exchange letters with a friend, but you can also customize and decorate your letters in which you can't do when you're sending an e-mail. You also get to collect letters from your friends and keep them as a souvenir from them. Letters are much valued because they are exclusive to the person you sent it to. You may not consciously know it but you get to put a flair of your self in the letter by your handwriting. You may also see formal letters.
Free Personal Letter Example
Personal Notarized Letter Template
Personal Guarantee Letter for Job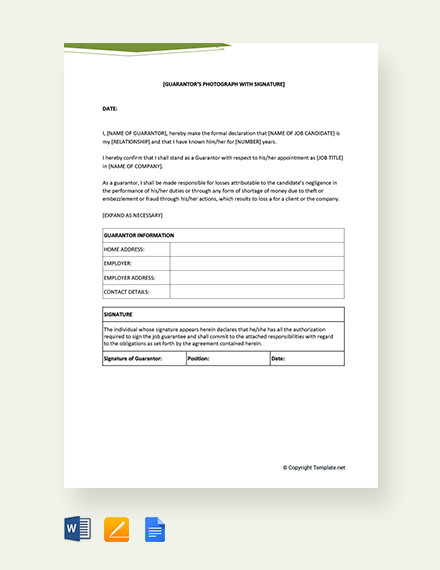 Personal Letter of Recommendation For A Job
Personal Letter of Recommendation For A Friend
Simple Personal Letterhead Template
Personal Letterhead Template
Personal Fundraising Letter Template
Personal Reference Letter For Landlord Template
Personal Reference Letter For Court Template
Personal Reference Letter For a Friend Template
Personal Reference Letter for Apartment Template
Personal Reference Letter Template
Free Personal Apology Letter To Boss Template
Free Personal Apology Letter For Misunderstanding Template
Free Personal Reference Letter For Student Template
Free Personal Apology Letter to Friend Template
Free Personal Reference Letter For Housing Template
Personal Business Reference Letter Template
Personal Thank You Letter For Appreciation Template
Personal Emergency Leave Letter Template
Personal Job Reference Letter Template
Personal Sponsorship Request Letter Template
Free Personal Letter of Recommendation for College Template
Free Personal Letter of Recommendation for a Family Member Template
Personal Recommendation Letter Template
Letter To My Friend Sample
Personal Letter Format
Letter Format Example
If you want to try to write letters for the first time; here are tips and ways to do it as if you're an expert in writing letters.
How to Write a Letter?
Depending on what type of letter you will write (more to this later), this is the basic and usual way of writing a letter. Take note of this as this will be the format or outline that you will use when you're writing your letter. You may also see email cover letters.
1. Start your letter by writing your name and address in the top right-hand corner of the page. This may not be as crucial if you're going to give your letter personally to the recipient, but if you're going to mail it, it is important to include this information in case your return address (at the back of your envelope were you out in your letter) is damaged, or the envelope is thrown out. This way your recipient will still have your address and will be able to reply to you. You may also see business reference letters.
Example:
Alexander Turner
School Crossing Street
Miles Peter
Underwater Street
2. Write the date on which you are writing your letter. If you wrote your letter on Thursday, write the date of the day. This goes on the left-hand side of the letter, just space above where you will put your greeting. The date is important so the person who is reading it knows when it was written. You may also see complaint letters.
Example:
January 6, 2015
March 18, 2012
3. After you wrote the date, under it is where you'll write your greeting. Since this is a personal letter, you can be informal with your greeting. Depending on your relationship with the recipient, you can start your greeting with their name, nickname, or you could use pet names. You could also use the usual greeting expressions used in letters like "Hi", "Salutations", "Hello" or "Dear". Since this is an informal letter, it is not necessary to put a colon (:) punctuation mark after the greeting. You can also use a comma (,) instead. You may also see business proposal letters.
Example:
Dearest Ingrid,
Hey Suzi,
4. After the greeting, it's time to start writing the content of your letter. Since this is not a business letter, your content can be as long (or as short) as you want it to be. Include anything you want to put in the letter. To make the reading easier, your letter may be split into paragraphs. You may also see offer letters.
5. When you finished your letter, don't just end it abruptly.  You need to sign off out of courtesy and by affirming that your letter ends there. Like in the greetings part; it solely depends on you on how you sign off your letter depending on your relationship with the recipient. You can use pet names, or the generic greetings like; "Yours truly", "So long", "From", "Sincerely yours", "See you", "Yours", "Love",  and so on. Under the sign-off, sign or write your name. You may also see appointment letters.
Example:
Yours Truly,
Alex
Love,
Miles
6. If you have forgotten to include something in your letter or you want to add an extra message, you can do a postscript (PS). Write this underneath your name at the bottom of the letter.
Example:
P.S. There's a party at Zach's on Saturday. Wanna come?
P.S. I've inserted a pic of my pet parrot, Perry inside the envelope. I hope you will like him.
Easy-peasy right? Of course, it is. Writing a letter is no big deal. You can just master it after writing a nice letter. Now that you know how to write a letter, but that's when you send a letter to your recipient. What if you are the recipient? How do you respond to a letter?
How to answer a letter?
1. Initially, writing a response letter is the same as initiating the letter. However, your content will change quite a bit. While starting your reply, use the customary greeting along with the first name of your recipient. You can also use just the name of the person, without any salutation, followed by a comma. This depends on how close you are to the recipient. You may also see resignation letters.
2. Depending on what the sender said in their letter, it is up to you on how you will start your letter. However the common and safe first liners are along the lines of "How are you?", "I'm glad to get your letter", "I loved your letter", etc.
3. After mentioning something that answers the letter of the sender; such as you can answer the questions asked about your life. Be truthful; It is okay to mention problems, but try to balance it with optimism and good things that happened in your life. You may also see offer letters.
4. Don't make the letter all about yourself. Ask the sender some questions about them. This is to facilitate a response from them.
5. End the massage with good wishes. End your letter by signing off.
There are times you need to write specific replies…
1. However, there are times that a person will open up about their woes to you. For example, if the letter that you received mentioned some crisis that they are facing recently, you must write back an encouraging response. You could start your letter by stating your support and genuine advice on how they will overcome their troubles. Be sincere about it. Let them know that you are there to help them through tough times. You may also see recommendation letters.
What can I write about in a personal letter?
Obviously, in this type of letter, your type of writing is conversational. Unlike formal letters or business letters, there are no codes or rules on what grammar or punctuation you should use. You can talk about whatever it is under the sun. Just don't forget to be rude and don't ever send hate mail or letters that abuse people If you don't know what you are going to write about, here are some suggested topic that might help spark a conversation:
1. Updates about the school, hobbies, sports, work, etc.
2. News about friends, family or even your pets.
3. Updates in your town or your country if your correspondent lives overseas.
4. Holidays, events, birthdays, achievements, funny situations, trivia, or anything that you think is special or exciting and would like to share. You may also see termination letters.
5. Your favorite jokes, things, films, music, artists, art, books, sports, games, animals, hobbies, are all cool things to write about.
6. Updates about yourself. It's more interesting easier to tell them about the new things that have happened in your life since the last time you saw them. You can write about being the top of your class, awarded as the best team player, updates about your love life, a promotion at work, your plans and your dreams.
7. Remember! Don't forget to ask the person you are writing about updates in their daily lives.
1. Different types of personal letters
There are lots of different types of personal letters. Here are a few popular examples:
1. Pen pal: A pen pal is someone you communicate with by sending letters regularly. Having pen pals is still present in this time with the digital era, blooming. You can find pen pals online.
2. Fan mail: Fan mails are for someone you idolize or admire. This may be your favorite actor, rock star, author, or sports hero, artist, etc. Don't forget to be polite and avoid using rude words. Express your admiration to these people. They will appreciate your admiration for them.
3. Love: Of course, love letters are still present even when social media and e-mails are ever so present. Many think that sending love letters are sweet. You can write a love letter to someone you love or care about. In this letter, you can express your feelings of affection and romance. You may also see notice letters.
4. Farewell: This type of letter is about saying goodbye to someone. Maybe they'll move residences, change schools or travel overseas. You express your best wishes to someone who is going to start a new chapter in their life.
5. Get well: Get well letters are for someone who got sick or who got hospitalized. You wish someone a speedy recovery from illness or injury. Express your genuine concern and best wishes to them. Get well letters to help the person recover faster from their illness.
6. Condolence: In this type of letter,  you show your sincere sympathy, especially for the death of someone close to the recipient. You can wish them strength through their distress, genuinely sorry for their loss, or write fond memories of the person they have lost. Help them loosen their burden by your gentle words. You may also see formal letter writing examples.
7. Congratulations: You can congratulate someone who received an achievement or an award.
8. Thank you: A thank you letter is showing your appreciation to someone. Probably, they invited you to their party, gave you a gift, or did you a favor, or anything that made you feel appreciated. This is a less formal version of an appreciation letter. You could send this to a friend or family member.
9. Holiday / Celebration: Celebration or holidays include birthday, Christmas, New Year, Bar mitzvah, St. Patrick's Day, Thanksgiving, Halloween, Easter or any other special event or holiday. Be able to wish your recipients well on these holidays. Tell them to have a great time. You may also see two weeks notice letters
2. Letter writing tips
If you're still not sure how your letter will turn out, here are some tips that you can follow and keep in mind:
1. Write a draft. By doing this, you'll avoid wasting paper because you didn't like what you wrote down in the letter. You also had lots of corrections and your letter is getting dirty. By writing a draft, you can still edit your letter and when you write down the final message in your actual letter, your message is easy to read and it looks presentable.
2. Make sure your handwriting is clear and neat. Your letter must be presentable and easy to read. If you think that you don't have good handwriting, you can have the option to: write your letter in MS word, ask someone else to write your letter or better yet, you try your best to write in your best handwriting. You may also see job resignation letters.
3. Make sure that your spelling is correct and there are no grammatical errors. Proofread your letter before you send it. It's embarrassing to send a letter with wrong grammars. Also, your recipient might be confused about what was your point in your message.
4. Since this is not poetry making contest, avoid flamboyant and verbose language (that is unless you're writing a cheesy love letter).  Your letter must be written in simple and colloquial language. Purely conversational language. Your recipient must relate to whatever you are writing about. You may also see new hire welcome letters.
5. When you are writing a letter, leave some room to talk about topics that are common interest between you and the recipient.
6. If you are writing the letter to someone that you have not seen for a very long time or writing to a pen pal that you started writing to,  enclose your recent picture along to create a platonic connection with your correspondent. Writing letters with a face to write makes the letter writer feel closer to their respondent.
Letter Format Example
Personal Letter Example
May these tips will help you hone your letter writing skills once you get down and write stuff. It will help improve your story telling skills. Have fun writing. You may also see what is a resignation letter.
General FAQs
1. What is a Personal Letter?
A personal letter is more of an informal type of letter that is written by a person to his/her friends, family, or acquaintances relating to personal matters. It is often handwritten and sent through the mail.
2. What is the Format of a Personal Letter?
The format of a personal letter is as follows:
Sender's full name and address
Recipient's full name and address
A subject line (optional)
An introductory paragraph
Body paragraphs
A concluding paragraph
A signing-off note
3. Why Should You Write Personal Letters?
Personal letters are one of the most unique and special modes of communication as they help the writer to express his/her feelings or concerns. It lets the person writing the letter and the recipient of the letter to connect on a personal level.
4. What Mistakes Should You Avoid While Writing Letters?
The following mistakes should be avoided while writing letters:
Including too much text
Using complex sentences
Making typos and grammatical errors
Using elaborate phrases
Failing to make an impression.
5. What Are Some Ways To Conclude a Personal Letter?
You can conclude a personal letter in the following ways:
Take care
Lots of love
Warm regards
Best wishes
Yours sincerely
Regards
Yours truly.