Even in the past, owning an apartment or office space was already considered quite a catch. Many investors would say that becoming an owner-operator of such realty is very promising in the long run. But for it to generate money, it needs to be put on a rental status. Assuming that you're a lessor, it is your responsibility to attract a tenant. Once you find one, you have to issue him or her a formal written real estate lease agreement to open your leasing arrangement. And when both of you are almost reaching the end lease, part of your responsibility is to provide a 30, 60, or 90-day notice or request to either extend or terminate the lease contract. If you have plans to terminate contracts, then our termination letter examples are perfect for you! Browse our collection below!
10+ Lease Termination Letter Examples
1. Lease Termination Notice Letter
2. Lease Termination Letter Template Landlord to Tenant
3. Sample Lease Termination Letter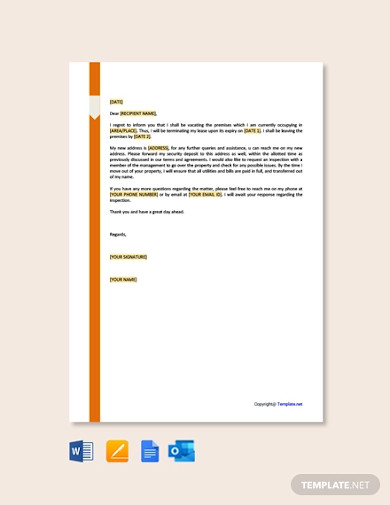 4. Landlord Lease Termination Letter
5. Commercial Lease Termination Letter
6. Apartment Lease Termination Letter
7. Sample Early Lease Termination Letter
8. Simple Lease Termination Letter
9. Lease Termination Letter Example
10. Formal Lease Termination Letter
11. Printable Lease Termination Letter
What Is a Lease Termination Letter?
A lease termination letter is a formal letter whose content revolves around the communication of property lessor to the lessee on the closure of the breaking or expiring rental contract. Sometimes, it's the lessee who writes this type of letter for certain reasons. Normally, this letter is sent to the lessee or lessor a month before the planned eviction or relocation. Moreover, it is produced for various reasons.
Some of these reasons, according to Jose Rivera of LegalMatch, may pertain to the violation of landlord-tenant lease agreement, to nonpayment, to new laws, and to instances that make the residential or commercial space to be unlivable.
A Big No to Self-Help Eviction
Self-help eviction occurs whenever a rental property owner forces out a tenant without going through the proper eviction process. In this case, the said owner commits landlord harassment, which is illegal in most states. The different approaches of self-help eviction could include the cutting off of house utility, changing of main door locks, taking out the tenant's properties from the rental property, harassing the tenant, and impelling the tenant to leave the property.
These methods could result in lawsuits in the matters of trespassing, intentional infliction of emotional distress, wrongful eviction, libel, assault, slander, and battery. To conclude, a tenant has every right to go through the proper eviction process, no matter what infringements he or she has committed. In view of that fact, self-help eviction is a big no for landowners.
How To Write a Lease Termination Letter
Even though formal letter writing is often used in almost all corporate undertakings, it's not something that you can learn in just a day. Many organizations would even consider taking up various related training programs just to learn the skill and apply it to business transactions, like real estate leasing. One of the qualities that make up a good formal letter is its thoroughness. Below, we present you with a complete outline of a lease termination letter to help you create one in no time. Check out the list of steps below.
1. Select a Format
There are three basic formats of formal letters, including block, modified block, and semi-block formats. Each of the formats has a unique appearance. Block has a very formal appearance, the modified block is a little less, while the semi-block is a little bit of both.
2. Greet the Reader
Always start your every letter with a greeting. It's a standard opening statement for formal letters, such as this lease termination letter. When mentioning your receiver, make sure to address him or her by his or her last name right after a "Mr." or "Ms." As much as possible, refrain from using "Mrs." or "Miss", except if you're sure of how the female receiver likes to be addressed.
3. State the Letter's Purpose
After your opening salutation, briefly state the intention of your letter. This goes both ways for the lessor and the lessee. In your statement of purpose, provide the accurate effective date of your rental termination letter.
4. Specify the Reasons of Termination
Following the statement of your purpose, specify the reasons why you are writing this end of lease letter to your tenant or landowner. Some of the common causes why these letters are made is because of the tenant's nonpayment,
5. Cite Related Statements From the Contract
To support the reasons for your lease termination, make your lease contract as your reference, then grab and use its relevant details. With proofs already on hand, the call for dispute resolution policies will less likely occur.
6. Enumerate Future Actions
Give your tenant a complete list of what you expect him or her to do on the day the termination would take effect. This could involve the full payment of dues, signing of contract termination documents, and vacating of the premises. If the disagreement between the two parties still continues, legal actions should be presented.
7. Lay Closing Remarks
End your letter with a closing remark. Bear in mind that you should stay professional. Even if you're in disagreement with the other party, the closing remark should be politely written.
FAQs:
Do tenants get compensation for illegal evictions?
Yes, they do. This compensation may account for temporary housing, the food damages due to house utility shutdown, the lost properties during the tenant's locked out period.
What are the different types of termination notices?
There are three types of termination notices. They consist of pay rent or quit, cure or quit, and unconditional quit.
How much does it cost to hire a real estate lawyer?
According to Law Guideline, the average cost range of real estate attorneys falls between USD 2,500 to USD 3,000. However, the range could get higher depending on what state you're currently residing in.
The shelter is one of the basic needs of an individual. For someone who can't afford to buy a property, a tenancy is his or her means of keeping up. But truth be told, it can't last forever.  This is why landlords and tenants alike, should prepare a document that can help them get out of a lease contract in case there's a need to.