A real estate offer letter is a unique document for three audiences: a seller, a buyer, and a real estate broker. If you are a realtor, you'll use the letter to sell a property on behalf of a property owner. If you are a buyer, you'll use this letter to express your interest to purchase a property. And if you are a seller who doesn't want to use a broker, you can use the letter to reach out to a buyer with a good offer.
Best Real Estate Offer Letter Examples & Templates
1. Rental Offer Letter Template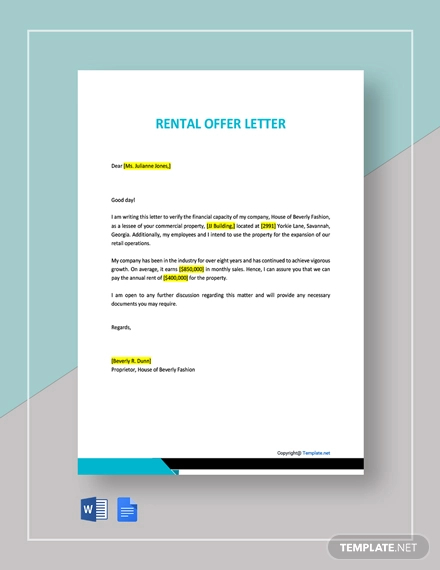 2. Free Real Estate Offer Letter
3. Free Simple Real Estate Offer Letter Template
4. Free Commercial Real Estate Offer Letter
5. Sample Real Estate Purchase Offer Letter Template
It's finally that time of your life when you feel like it is time to own a property. You've come close to achieving your real estate goals and you can't wait to become a homeowner. Assuming you already have your budget in place, you have a few more things to put in order. First, you need to identify a property.  Then you need to reach out to the property seller or their agent with an offer. You will need this offer letter template to express your interest in buying the property in question. With this offer letter, you can state the property that you would like to buy and state how much money you are willing and able to spend.
6. Real Estate Sales Offer Template PDF
Check out this sample template if you are looking for a more detailed real estate offer letter. You will notice that the content of this letter recognizes that both a buyer and a seller have legal rights and responsibilities. The sales offer letter recognizes that a potential buyer will need a full description of the property on sale and therefore encourages the seller to provide as much details as possible. The letter also grants the potential buyer the right to inspect the property, but this is limited to a given period. The letter also outlines the purchase agreement between the buyer and the seller of the property.
7. Real Estate Agent Offer letter Template in PDF
Your main goal as a real estate agent is to reach out to new prospects, market your brand, and convert these prospects into buying customers. As you continue to advertise your real estate business, you'll have potential clients coming up to you and requesting to see your listings. Then, they will request for a quotation for the property in question. This is a good opportunity for you to write them an offer in the form of a letter. And you can do that using this sample real estate agent offer letter template.
8. Free Real Estate Offer Cover Letter
If you feel like it is the right time for you to buy a home, and you have identified a potential seller who has theirs on sale, use this real estate offer cover letter template to reach out to them. The purpose of this official letter example is to enable you to express your interest in the property in question. And although it highlights the terms under which you would be willing and able to buy the property, keep in mind that this letter is not an official purchase agreement. You can download the document for free by clicking the download link above.
9. Basic Real Estate Offer Letter
A real estate offer letter doesn't have to be lengthy. An, it doesn't have to highlight all the real estate terms in the world. In fact, a one-page letter is more than enough to express your interest in buying a property that you have already surveyed. This template is a good example of a very basic letter example that easily grabs the attention of the recipient. Remember, the primary goal of writing this letter is to express your interest to buy a real estate property and to give an offer. Once you submit this letter, it is up to the seller to accept or turn down your offer, subject to the terms and conditions of the purchase.
10. Letter of Intent to Purchase Real Estate
You've finally made a decision that it is time to buy a new premise. And you are so excited to become a property owner. You've even identified a potential seller. You've visited and inspected the premise and you believe that it is fit for you (and your family, if you have any). And, you are more than willing to buy the property. The next thing that you need to do is to express your intention and interest to buy this property. What's a better way to do that than to use a simple letter of intent template already designed for you.
11. Real Estate Congratulation Letter for Accepting Offer
Very few real estate businesspersons ever take their time to write a thank you letter to their buyers. For many brokers, the relationship between a buyer and seller seem to end after closing a deal. That's fine. But, it doesn't have to be this way. One of the best things that you can do to express your happiness for doing business with a client is to send them a congratulatory message for owning a new home. You can do this with the help of this real estate letter.  Note that this word document is a letter specifically for congratulating a buyer for accepting your offer and becoming a new homeowner. The template is free to download.
12. Commercial Real Estate Offer Letter for Agent
This is a real estate offer letter written by an agent to a potential buyer on behalf of a potential seller. The letter highlights part of the real estate agreement and expresses the interest of both the buyer and seller to transact. This is a simple example that you can download and modify accordingly.
13. Real Estate Offer Letter to Purchase
This sample letter template is suitable for a buyer who wants to buy a real estate property from a potential seller. Since the design of the template is already complete, you don't have to modify anything. All you have to do is to download the file, print it, make a copy, and start using it thereafter.
14. Standard Real Estate Offer Letter Template
Are you looking for a standard real estate offer letter template that you can download and use straight away? Or maybe you don't have enough time to write the letter and you are looking for a quick solution? Here is a simple letter that you can download with a single click of a button.