Reporting has always been and will always be part of any business endeavors. It is the only way that the concerned party can get the idea of how the business is faring and how he or she can profit from it. Reporting is particularly important to project management, especially if the client is abroad. It is also important when it comes to investors of the said project. That's why if you need to create an excellent project management report we have exceptional samples ready at your fingertips. We also have an excellent creation guide that will boost you greatly. Go on, check our resources below, and make an excellent document on a whim.
15+ Project Management Report Examples
1. Project Management Report Template
2. Construction Project Management Report Template
3. Simple Project Management Report Template
4. Project Management Weekly Status Report Templates
5. Free Monthly Project Management Report Template
6. Free Project Management Report Template
7. Free Project Management Weekly Status Report Template
8. Report on Project Management Skills
9. IT Project Management and Report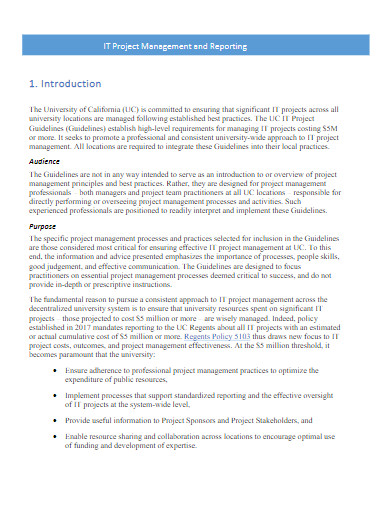 10. Project Management Monthly Status Report
11. Annual Project Management Report
12. Project Management Report Example
13. Project Management Peer Exchange Report
14. Project Management Training Research Report
15. Project Management Report in PDF
16. Project Management Survey Report
What is a Project Management Report?
A project management report is a tool that people use to learn the current status of a project. Depending on the project management method (waterfall or agile), the type of report document you need to use may vary. However, this tool is still important for general information gathering purposes.
What are the five phases of a project?
Project management involves not only one phase but five different phases. These phases are important and are vital to finishing the whole project in flying colors. Listed below are the five phases.
Project Initiation is the official start of the whole project. However, the project itself is not yet starting to work, so if it is a construction project, people wouldn't flock to the construction site, yet. Instead, this is the go signal that the people can start planning for the desired project of the client.
The project planning comes next which is a thorough brainstorming and idea-collection. This is the phase where people tackle issues of the project before it starts. In this way, the whole team will always be ready and will have better work.
Project Execution is all about breaking the ground. This is the phase when people start to implement the plans discussed. If they are starting to build a school, they can now start gathering materials and building the structure.
Truth be told, projects would take time. That's why project managers would appreciate having an excellent communication plan to know the frequency of the reports and communications. I mean not all clients would appreciate a daily report. It all depends on their preference. However, that's why you have the planning phase.
After finalizing the last milestone, it is now time for the project to end. People might have created dozens of weekly or monthly reports, but an end is an end. So make sure that you don't allow people to be complacent. Instead, make sure that the professionalism of their work stays the same.
How to Create a Project Management Report
Project management can make a person busy sometimes. That's why a report template is necessary. Although well-financed projects opt to create a status dashboard to ensure that they see the project's progress by the minute, a low-budget project wouldn't. That's why a Project Management Report is necessary. To help you, we provided the steps below to create one.
Step 1: Summary
A good report starts with a summary. An executive summary is important to ensure that the reader understands the general concept of the report in the shortest possible time. In this way, they can then decide the weight of the report which in turn allows more time into checking it or leaving it.
Step 2: Discuss
The point of reporting is to tell a tale. To tell about the current status of the project and to ensure that you're not breaking away from the goals and plans of the client or the company. However, what you also need to do is to ensure that you discuss key problems and challenges that could slow the whole endeavor. Make sure that you have an introduction before it and a conclusion after it, as well.
Step 3: Suggest
The next thing you need to add is your professional suggestions. You are the project manager for a reason. You are there as the representation of the client or the company's will. So make sure that you have suggestions that will help them keep the project going in the right direction.
Step 4: Reference
Lastly, you need to make sure that whatever you are discussing has a detailed reference. If you are having problems with the attendance of the workers, make sure to add the daily attendance sheet for it. In this way, your words would have enough sway to ensure that your problems are heard by the higher-ups.
FAQs
What is reporting and why is it important to a project manager?
Reporting is the art of communicating with the client or the company. It is a method to inform the concerned parties about the status of the project. It is important to a project manager because they take confidence in him and will help him ensure that the project will succeed.
What are the two major categories of reports?
There are two major report categories, they are:
1. The formal report
2. The Informal report
What are the qualities of a good report?
A good report is simple and direct. Yes. You don't need to write it creatively, instead, people appreciate it when you write it properly and short. In this way, they don't need to spend time thinking of what you wanted to say, and more work can be done.
In this modern age, reporting is still important. That's why you can see many samples and formats available in the market. However, although it is necessary for a project manager to excel in this area, this is only a piece of what the whole job entails. An excellent project manager uses the resources he has to do his best.