Completing a construction daily report can be a very exhausting task, but it is also essential. What is the construction daily report? It is a report that records field notes, including weather conditions, what work has been completed and which materials were delivered or at least used on the construction site. Filling out the daily report keeps the project management team up to date along with the owner and the general contractor. They know how much the project is professing. Here are some of the best Construction Daily report examples and templates which you can download and save your time.
Construction Daily Report Examples & Templates
1. Construction Daily Report Template
Communication and regular communication is key on a construction site. One needs to keep a check on what is happening on the project to prevent missing timelines and schedules. You can do that by filling gout the daily construction report. Here is a great template for that. Construction projects can be challenging to manage. Sometimes the labor comes in late or does a job wrong. All of these tasks have to be managed by the supervisor and reported to the manager. Using a report to do this can help the supervisor and save him from being blamed for anything that goes wrong. Reports are needed to pick out errors, which could lead to serious delays in the project.
2. Daily Construction Report Sample
This daily construction report sample is an excellent source. It is needed for keeping everyone informed about what is happening on the project like the project manager. It also mentions the missed days. By documenting the daily activities in the report, you can keep a very transparent project; reduce communication projects and safety risks.
3. Daily Construction Report Template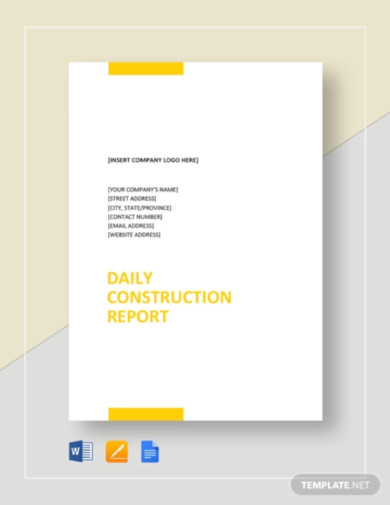 Construction projects have a high failure rate because of poor communication and collaboration between the team. There are a lot of people involved in the project, and all have to be managed. Therefore, a daily construction report is needed to document the activities and observations made on the project site. These can keep the stakeholders involved and informed.
4. Daily Construction Report Example
One great way to find out mistakes and spot problems in work patterns is by tracking the daily work, growth, and progress. One of these can be done, which is daily work tracking through a detailed report through well-formed templates. Without delay, you must start doing so and get help from the free and professional templates for this. You can use our Daily Construction Report Example and start working on this.
5. Free Construction Superintendent Daily Report Template
If you want to regularly inform your management about the project status and updates, you can use this free construction superintendent daily report template. It is easy to use and download. You can simply edit this to add more details, tabs, and information according to your own project. Having a solid daily construction report that a supervisor can use is very important for any construction project. It can help with following the progress of the project.
6. Free Construction Daily Inspection Report Template
Record routine inspections at the site using this ready-made Daily Work Log Examples. Get all the details right by using this print-ready template with text and content easily edited. This Free Construction Daily Inspection Report Template will surely help you in your work.
7. Free Daily Construction Report Template
A Free Daily Construction Report Template is one of the best practices in operations. If you can track what you are doing every day, then this will help you get down to the root of problems quite easily. You will be able to track what problems occurred, why it happened, and the responsible factors. This is one very good way to work and help a company or business grow.
8. Contractors Contraction Daily Report
cbgoldsmith.com
A contractor's construction daily report is filed by the employees for their supervisors and includes details about the daily activities and work have done. It also includes what challenges they faced during the day and sometimes what they are planning to do on the next day.
9. Daily Report for Construction Management
Daily Report for Construction Management is very useful for stakeholders. It is a document that proves progress is being made for a client. Apart from keeping everyone informed about the daily activities, these reports help evade legal problems as everything is recorded every single day.
10. Contractors Daily Contraction Report Example
Contractors Daily Construction Report Example explains the details of the site and the job. These reports allow everyone to know what happened on the construction site, and the status of the project in real-time. If there is a delay, the report will be referred to know what caused it and it saves everyone from blaming each other or arguing.
11. Sample Daily Construction Report
Sample Daily Construction Report is important in any construction project. It can be used for multiple reasons and keeps everyone informed and up to date with the status of the project.
12. Sample Daily Construction Report Template
The Sample Daily Construction Report Template is handy when you have to inform a large number of team members about what is happening at the construction site. You can use this incredible template and take reporting to a whole new level. It is easier to understand and maintain.