Different careers have been practicing to write a technical report. Engineers are one of the examples. Engineers aim to provide right calculations and present quality yet complicated procedures. Everything they do, needs to be incorporated with a technical report. Report writing is not easy as you may think it is. Making sure that it is written in a clear and concise manner makes it become a well-written one. In this article, you will be given an opportunity to learn more about how to make good technical reports.
10+ Short Technical Report Examples
1. Technical Evaluation Report Letter Template
2. Technical Report Template
3. Technical Service Report Template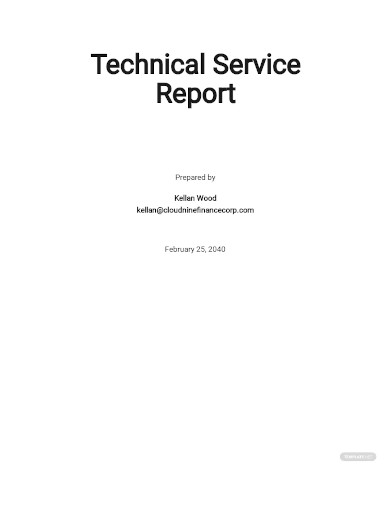 4. Short Technical Report Deliverable
5. Short Workshop Technical Report
6. Short Water Quality Technical Report
7. Short Engineers Technical Report
8. Editable Short Technical Report
9. Short Compiling Technical Report
10. Short Scientific Technical Report
11. Printable Short Technical Report
What is a Technical Report?
A technical report is designed to convince, persuade and inform. You are to convince your target readers about the position you are in. You are to persuade them to act into something beneficial to the activity and you are to inform them about your findings. This type of report gives you an opportunity to provide good communication to solve a problem, to give an appropriate recommendation and to help in the process of making a good decision. They contain sections with headings and subheadings and even presents figures and diagrams to provide an illustration of the data gathered.
Structure of a Technical Report
A technical report should have the following sections:
Title Page – this includes the title of the report, word length and summary of word count.
Summary – this provides a summary of the entire report including the features, results and the general conclusion.
Table of Contents – The table of contents lists all the section and subsections with their corresponding page numbers.
Introduction – this section will let you state the main objective of the report. This also allows comments regarding the way a particular topic is treated. This should lead into the report and should not copy any text from the given handout.
Body of the Report – this section is divided into three parts. This parts contains numbered and headed sections. They even separate the main ideas which are arranged in logical manner.
General Conclusion – this sums up the entire report logically. It restates the theme which has been developed in the text.
Reference – this refers to the sources that should be written as a reference list and are particularly arranged in alphabetical order.
Acknowledgements – these are the lists of names of people who helped you in the research process or during the time when you get to prepare for your report. You my also consider acknowledging your proofreaders.
Appendices – this includes any  material or documents that are essential for full understanding of the report. This may refer to raw data, diagrams, specifications and more.
When you plan for your report, you have to collect information first. These might include handouts, lecture notes, books, journals and anything that is necessary during the process of writing your report. List down the topics and ideas you got from your materials and arrange them afterwards in a manner that they will be organized. Then, you may start to structure your report. Outline your report using headings and subheadings.
FAQs
When are we going to use mathematics in a technical report?
You are going to use mathematics when it is the only efficient way to present an information. Mathematical arguments are usually found in appendices.
When to use headings and sub-headings?
Use heading and subheadings to guide the readers. They are usually designed to break up texts in order to provide a logical sequence for a clear structure.
Do you have to include experimental details in your report?
You may include experimental details since they are the ones that mentions about the equipment you have used, testing conditions and the parameters set for the test.
Technical reports are more on the process, progress and results which includes experimental details, research data and more. This can be an avenue to provide information about a particular subject before this has to be published by anyone else. Although this type of report can't be peer reviewed, but you can still evaluate if the report has been written precisely with the accurate information needed.